TESTIMONIALS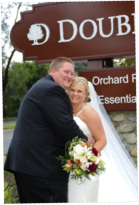 "My husband and I were married on 11/12/11, and had our wedding reception at the DoubleTree Hotel in Claremont, CA. Janet Hart of DANCIN' WHEELS came highly recommended to us by the hotel, and by our photographer, Michelle Johnson, for our DJ/MC needs.
Being a "Do it Yourself" bride, I relied heavily on recommendations and decided to give Janet a call. She was extremely friendly and was very flexible with my hectic schedule. From the moment we met, we had an instant connection. I realized very quickly that she understood how important this day was to me. She came prepared to our meeting, with lots to show me about her services. It was obvious she had tons of experience, and had wedding receptions down to a "T". She had time lines in place, pictures, reviews from Yelp, the works. It even was brought to my attention that she does several of the employee events at the DoubleTree. That definitely says something! However, what I admired most about her was her friendliness and attentiveness, as well as her ability to let me know when and what was going to happen next.
As the wedding came closer, I began to realize that no matter how prepared I was, I needed someone on that day to assist with the setup, greet and help my guests to their proper seating assignments, keep me on time, and make sure everything was running smoothly overall. Once again, I turned to Janet, who was able to provide these "Day of Services", as a combo-pack with her DJ package. Her pricing was very reasonable, and believe me, I did my research! We met once again to discuss details, and when I left, I had never been so confident that all of the labor and hours I had put into creating this "perfect" day, were in the hands of a true professional who understood my vision.
Our wedding day finally came and went faster than you would believe. Looking back, I can't think of a single thing I would've changed, or wished different. Janet did an AMAZING job at following through with everything she had promised and then some. She came equipped with assistants to make sure the job got done right, top of the line lighting, and had the ability to put on an unforgettable party with her MC skills and music! Not to mention, our awesome custom GOBO!
Overall, I would HIGHLY recommend Janet Hart of Dancin' Wheels for your wedding reception, or any event for that matter! She truly is worth EVERY penny, and a heck of a professional! She won't let you down!!"
The Happy Bride, Maurgan Burke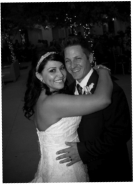 ---
"The very first phone call that I shared with Janet Hart of Dancin' Wheels truly set the tone of our "relationship". I had received excellent reviews from our cake vendor about Janet and called just to get a quote and have a couple of questions answered. Janet and I spoke for about an hour on that very first phone call. She explained everything that ANY DJ service would provide, expect, charge, etc... so that I would have the proper knowledge of what to ask and expect if we decided NOT to go with her. I knew right then that any business woman who was more concerned about bride on a budget then possibly not getting that bride's business was one for us. Of the many, many compliments we received on our wedding almost everyone remarked on how great the music was. Everyone had a chance to enjoy, sing along, and dance to the great music selection Janet put together for us. I have recommended Janet to friends and will continue to do so in the future."
-Charity and Michael Cooper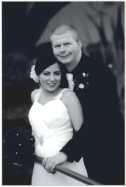 ---
"My wife and I highly recommend Dancin' Wheels to any couple for their wedding reception. Janet Hart, the owner and DJ, was extremely pleasant to work with. She helped us plan all of the activities of our wedding reception. We selected a range of music including several special requests that Dancin' Wheels obtained just for our reception. Janet kept the party flowing with continuous music, announcements, and encouragements to the wedding crowd to have fun and dance the night away. Our wedding reception was wonderful thanks to Dancin' Wheels!"
-Dan & Ramona Hammerand

---
"Janet Hart is fun, lighthearted and knowledgeable. She provided the entertainment and lighting for our wedding as well as rehearsal and wedding coordination. Janet knows a ton about music and she helped us identify what we wanted and then played the music we asked for. She was on time and prepared with her own equipment. She ensured things ran smoothly and allowed us to fully enjoy our day without worry. This included keeping s ome of our disorderly groomsmen focused. Janet is affordable, dependable and great at what she does. We would definitely work with her again!"
- Joshua & Amy Witt

---
"Our first interview and only interview was with Dancin' Wheels. My husband and I had been looking for the perfect florist, catering service, and place, but the easiest decision we had to make was Janet with Dancin' Wheels. My husband and Janet instantly hit it off talking about the Lakers, and she was very professional. We finished our interview and walked back 5 minutes later and said "could we please sign the contract now." Our wedding day was amazing; all of our guests had a wonderful night celebrating our marriage. The music brought everyone to the dance floor and kept everyone there the whole night. Janet did a great job mixing all the music in a way that was perfect for all of our guests. Dancin' Wheels was perfect for our wedding and I am sure it will be for your wedding too."
-Andrew & Desiree Elkin